Travel
Here are a variety of etchings based on various travels.
berlin orpheus germany (M)
angel seat brunswick st melbourne (M)
prayer wheels ghansu province china (S)
sunning the buddha xiahe ghansu province china (M)
tibetan pilgrim ghansu province china (M)
sleeping beauty lithuania (M)
flute player lithuania (S)
borobudur java indonesia (M)
small (S) medium (M) large (L) extra large (XL) not available (N/A) nic_nicola@hotmail.com
________________________________________________________________________________________________________________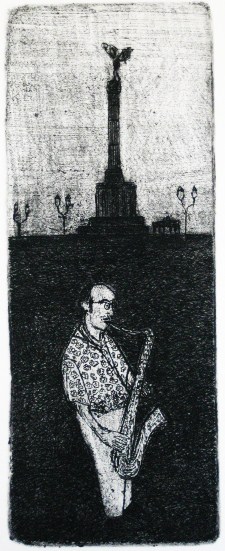 48 'Berlin Orpheus.'
black on grey. 3"X 8.5" zinc plate. M
The well-known Berlin landmark: the Victory Column (made more famous by the German movie Wings of Desire directed by Wim Wenders) is surrounded by a roundabout and there are underground tunnel walkways that pedestrians can take to get to it. I was meandering along the footpath circumference of this road circle when I heard this haunting saxophone sound; it was very clear and crisp and was like a movie soundtrack such was the surreality of this music. (I couldn't help but think of the worldly black woollen coated middle-aged male angels in Wings of Desire…). It was inconceivable to comprehend to work out where it was coming from; at first I wondered if it was coming from a car circling around the Victory Column and then it became somewhat clear that it was arising from one of the underground causeways. Like some apparition I saw a saxophone player playing in the darkness. It was explained to me that the pedestrian tunnels had excellent acoustics and that 'Orpheus' was a regular visitor to these subterranean passages; I was entertained to my own private concert. Afterwards I was driven by 'Orpheus' to his flat and I was given a cassette tape of his saxophone music which I still have to this day. Finally, this wistful movie-like travel vignette came to an end as I was driven by my host to the Berlin bahnof where I was catching an overnight train to the east.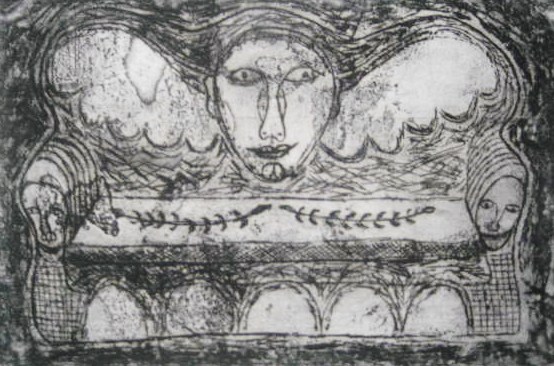 49
'Angel Seat.' B&W.4"X6". copperplate. Brunswick St. Melbourne. M
I quite like Brunswick Street which has a lively, diverse character and so I thought it was rather befitting to spot this arty seat in this great Melbourne road. Although in Australia when we refer to travelling we often mean going overseas Melbourne - in a way - with its 'European quality' can allow a person to pretend that he or she is outside the country.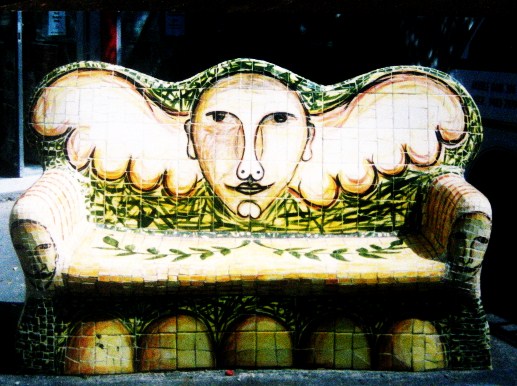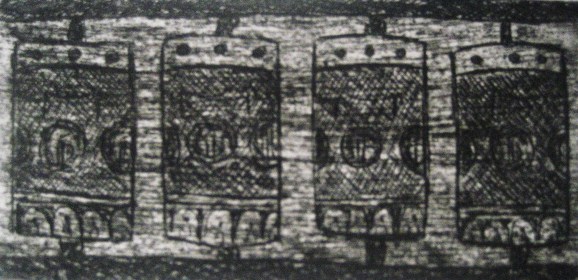 50 'Prayer Wheels.' B&W. 2X4". copperplate. Xining. Ghansu province. China. S
This work is based on a photo I took at a far away remote Tibetan monastery in Ghansu province. China. This part of China is actually a part of Outer Tibet and is thus occupied territory. All that is to be said is this monastery was large, very isolated and surrounded by a grand and vast snow-covered mountainous terrain. From what I understand prayer wheels serve the spiritual function of being spun to aid the pilgrim's prayers rising to the divine; twirling drums which also typify for me the circling life drama entwined in the law of return which is labeled as karma.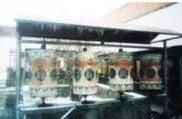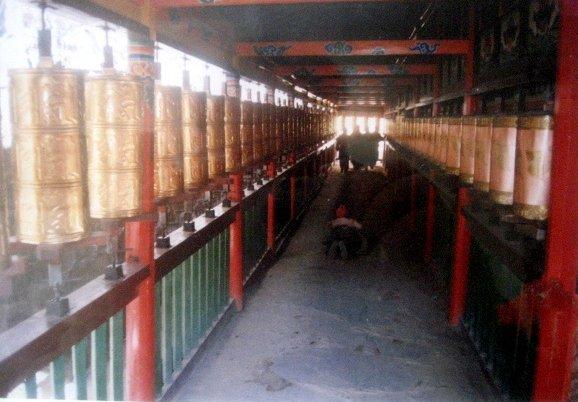 Tibetan pilgrim crawling down corridor of prayer wheels on either side. Xiahe.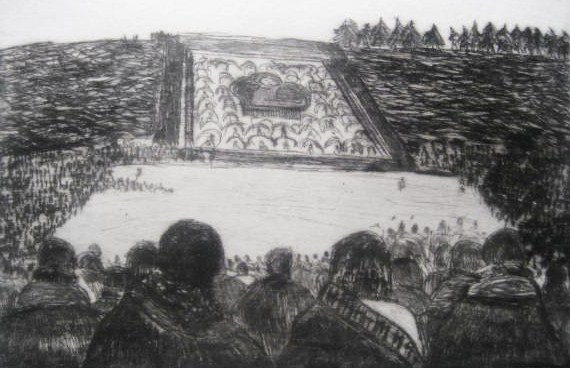 51 'Sunning the Buddha.' B&W. 6"X4" plastic plate. Xiahe. Ghansu. M N/A.
The Buddha hovers above a mass of thousands of pilgrims. The image is based on a scene witnessed in Xiahe - a Tibetan monastery town in the Chinese province of Gansu. (This province is actually a part of Greater Tibet and can be considered as territory occupied by the Chinese). The placing of a large thanka on a mountain side is one of four major events of Tibetan New Year. It is incredibly cold in the morning when the thanka is unravelled as Tibetan New Year is in early March at the tail end of the North Asia winter. However, thousands of Tibetan pilgrims who have streamed into Xiahe from many far flung parts of the surrounding wilderness patiently wait for this ritual to occur. The thanka has a design of a Buddha woven upon it and is only left out for a couple of hours before it is rolled up again for another year. This event is called 'Sunning the Buddha' for the obvious reason that this Buddha is revealed outdoors for the one and only time outside at the time of the Tibetan New Year. It is remarkable that this long awaited event only lasts a couple of hours. The image of the Buddha for me lingers in the mind of everyone who sees it due to the rare opportunity of seeing it and for only such a short time.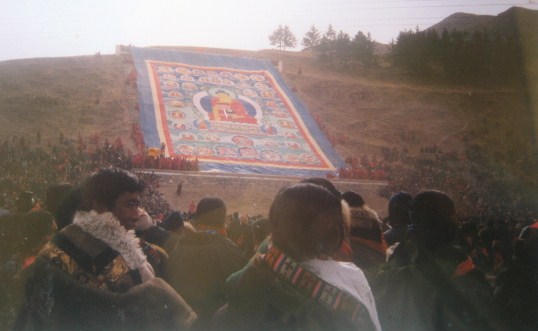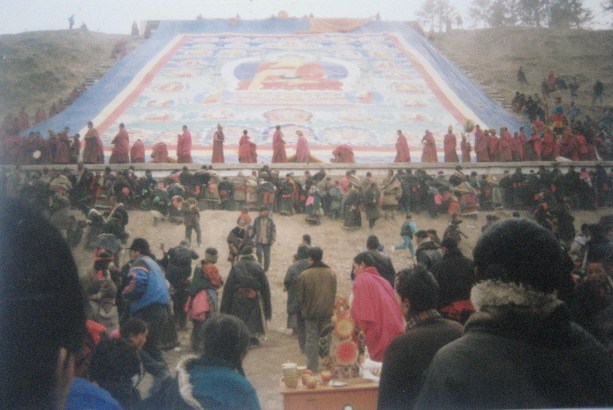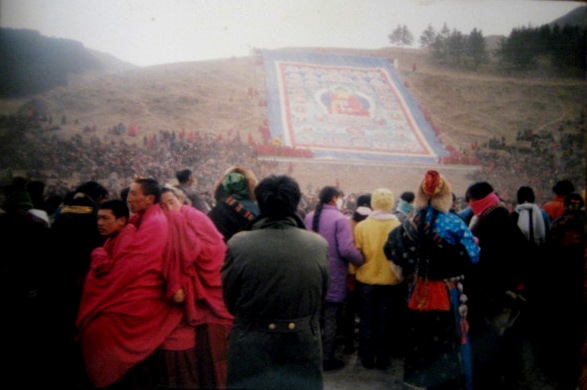 Photos of the thanka on display; we can see from the three monks hugging each other in the last photo that the crisp, early morning air was extremely cold.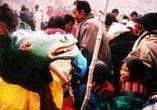 Crowd control: marshalls like this one wearing the horse head would use their stick to keep people away from the thanka and priestlly procession around it. The children are bemused.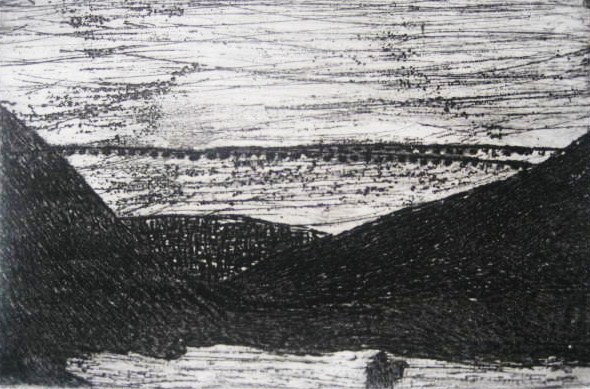 52 'Tibetan Pilgrim.'
B & W. 6" X 4". zinc plate. China. Ghansu province. (Outer Tibet). M. N/A.
Venturing out amongst the surrounding mountain terrain that surrounds Xiahe I - and my travel companion Kristina - glanced back to sight a lone pilgrim underneath a row of weatherworn Tibetan prayer flags walking in the wilderness. The vision of this one single figure was in stark contrast to the knowledge that there were thousands of Tibetans milling in Xiahe for Tibetan New Year.
Below the photo this etching is based on is a photo of one of many dedicated tibetan pilgrims; it was said that one man had lifted and then stretched out his whole body on the ground for hundreds of miles to reach the temple in Xiahe. The second of the two travel photos is of a Himalaya scene outside Muktinath, Nepal. I have a vivid memory of another lone, lean pilgrim wearing scraggly robes and a wooden staff practically limping along a path to reach Muktinath which is situated in a wilderness that borders China. There is a Buddhist temple there built upon the site of a strange natural phenomenon of a flame emerging from a stream of water. It is hidden behind a curtain and is revealed to you on request to the monks.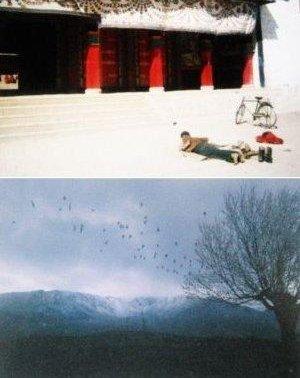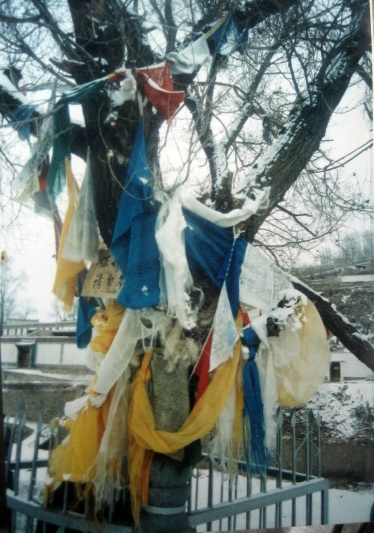 Tibetan prayer flag 'wishing tree.' Xining.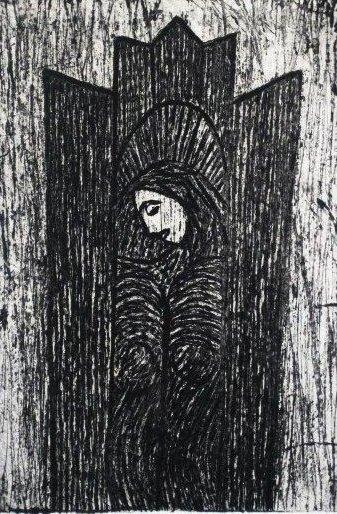 53 Sleeping Beauty.
B&W. 6"X4". zinc plate .Vilnius. Lithuania. M
This etching details the following carved wooden totem in a little out-of-the-way park in Vilnius by a wide canal.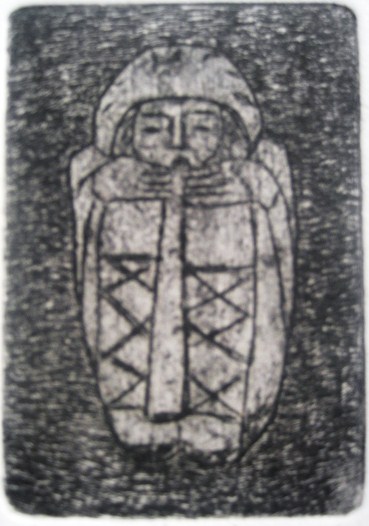 54
Flute Player.
B&W. 5cm X 8cm. copperplate. Kaunas. Lithuania. S
This image of a flute player is based on a statuette outside the Devil's Museum in Kaunas. Lithuania. There is a small park dotted with statues and this one took my particular attention. Lithuania was only christianized by the Teutons roughly six hundred years ago and throughout the country there is still a strong undercurrent of paganism in its national culture. Lithuania is now a devoutly Catholic country but even on top of the crosses on the magnificent roofs of its soaring cathedrals there are metal circles with swerving sunrays jutting from them - harking back to a worship of the sun from pre-Christian days. The Devil's Museum itself is very interesting filled only with figurines of the Devil throughout the whole world. It is not surprising to come across such a museum in a country that has a strong sense of nature worship and interest in pagan traditions. It can be said that such a mythic observation of nature is often the case throughout most of Europe but it does seem to me more so in Lithuania. After all, near a coastal town called Nida next to the Baltic Sea (a place where you can visit Thomas Mann's holiday house) is Witch's Hill. A forested area filled with large wood carvings of witches, devils, gods and goddesses. However, it is all rather playful. As a Lithuanian woman once cheekily commented to me: "The Devil is our friend. We can 'trust him'. He always keeps his promises." The flute player reflects the more mythic, sublime semblance of nature and it is an image I find especially enriching.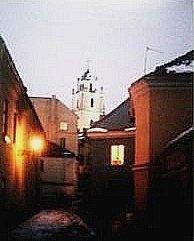 A church tower in Vilnius which - as mentioned previously - has sunrays on the very top. Lithuania's ever lingering nature worship harks back to its relatively recent pagan heritage. As also stated Lithuania was only Christianized 600 years ago.

55 Borobudur. Java. Indonesia. B&W. 8"X5". zinc plate. M
These are some of the large bells at the top of the massive Buddhist monument known as Borobudur in Java. This cosmic monument echoes the nearby holy mountain of Mt. Merapi. You have to walk on an ascending pathway of this stone structure which somewhat resembles a relatively square ziggurat; as you do you may meditate on events in the life of Buddha which are carved into the high walls. At the spacious platform-like top you will have reached nirvana and from this open air heaven you can view the splendid surrounding countryside and Mt. Merapi itself – which in the far distance – along a bumpy mountain horizon. It should be stated that within each bell is a statue of Buddha which may be touched and by which I presume the healing power of this spiritual figure may have its effect upon you.