Apostrophes' Cafe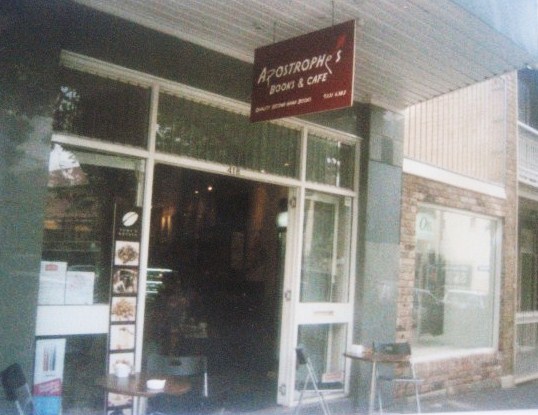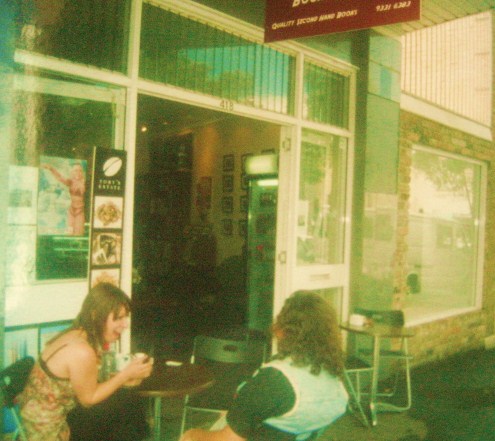 I came across this intriguing cafe purely by accident while I was looking for an art gallery in Surry Hills. I sat down and had a coffee while perusing the many bookshelves filled with secondhand books for sale. I was able to pick up a few bargains mainly from the art book section plus a couple of classic novels.
The proprieter Matina was a resourceful young woman and admired her positive spirit; her determination and a carefree but knowedgeable willingness to take a real risk. How often have any of us said that we would open a cafe/bookshop but have never seriously taken up such an incredible challenge? (Matina is pictured above sitting outside).
I became a regular customer - especally so when I was frequenting the nearby first Saturday in the month Surry Hills markets - and in short it was Matina's idea to have the exhibition. I was reluctant to take up her suggestion but in the end I did and am still very glad to this day that I did.
Unfortunately the cafe is no more thus recording my exhibition and the images helps to serve an archival purpose.
Below I reproduce the introduction to the catalogue that I was developing ( and of which I have printed only one proof copy thus far) and which now serves as a precursor to this website. Underneath the catalogie introduction I repeat the 'collage' of photos that was also on the introductory page of the catralogue; other related images follow.
I should add my nostalgia for this establishment probably harks back to an even greater fondness of having grew up in a milk bar myself which was run by my father: Speeds Milk Bar.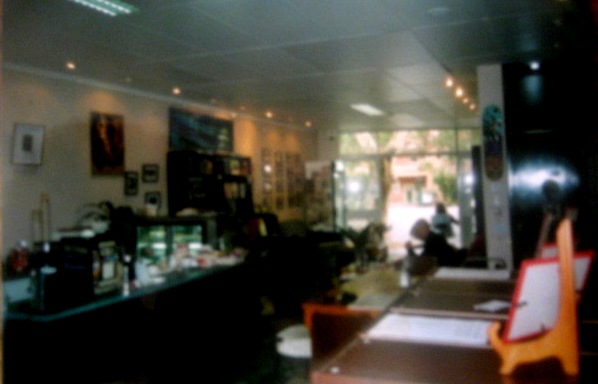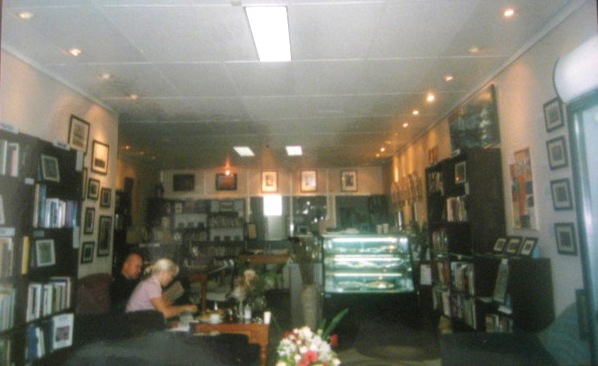 Archive One Introduction catalogue page
Introduction
The idea for this catalogue was initiated when an exhibition of my work was held at the Apostrophe's Café in Crown St. Surry Hills on Thursday night, November 24.1 2005. Many of the people present suggested to me that I should make a catalogue which would include the explanations that I had added alongside many of the works; I specifically mention this public encouragement as I know that such a production as this runs the risk of simply being an exercise in self-indulgence.2 I have created many etchings since that magical evening and so include many of these new pictures in this present catalogue. I have also included a handful of earlier works which did not receive a 'public' airing' at the café; thus most of the prints in this catalogue cover a time span from the late eighties through to the present time. At the end of the main catalogue examples of other art forms which I have been experimenting with (and more akin to modern contemporary art) have been included.
I wish to warmly thank Matina who ran the Apostrophe's Café. It was her idea to put on the exhibition and to Liz who many years ago encouraged me to pursue printmaking. I would also like to express my appreciation to those friends who have always provided me with a positive – as well as constructive – critique of my art.
Nicholas Nicola March 2008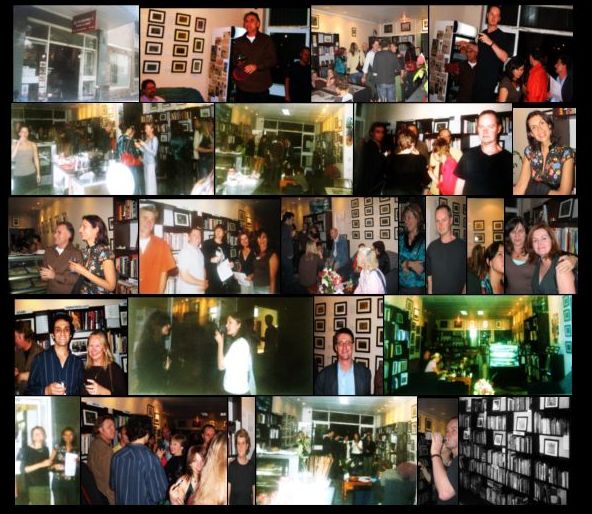 Notes
1. I am bemused that this date – November 24 – happens to be Toulouse Lautrec's birthday. I highly recommend the original movie of his life done, presumably sometime in the sixties. It is called Moulin Rouge. I had intended to have the exhibition on William Blake's birthday but this was not possible.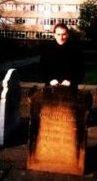 The artist at William Blake's grave for his 30th birthday. London. February. 1989.
2. On the matter of self-indulgence I am reminded of the two electric signs in the café of the Museum of Contemporary Art in Vilnius Lithuania which in one remarked I am an artist and in the other read: I love myself. In the low-lit interior the two signs glared at you from above the bar – with its many coloured rows of bottles; as you comfortably sat amidst the silver décor; surrounded by youthful chess playing, pipe smoking 'arty black clothed types'. Suffice to say that the only other single show that I have held was actually in Vilnius Lithuania which has a very strong, healthy, vibrant printmaking scene. This was in late 1998 when I worked for a term as an art teacher at a private afternoon art college called the 'Teachers House' which catered for adolescent students.
The Apostrophe Café exhibition had some space reserved for other artists such as Denise Nicola – the artist's sister - and Liz Land as well as art by art teachers from Bossley Park High School in reciprocation for the artist being asked to exhibit in their exhibition at Fairfield Regional Gallery that occured just before this exhibition.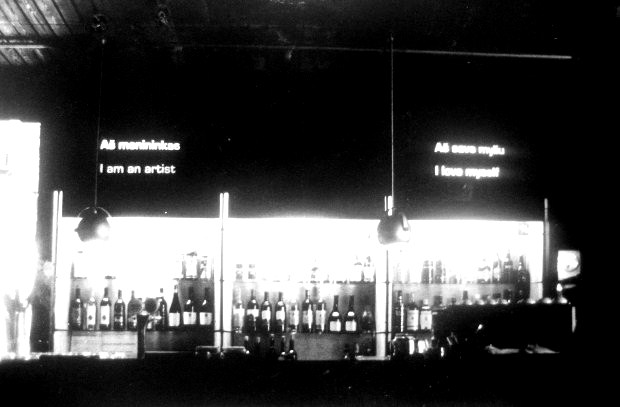 Archive Two Apostrophes' Cafe Exhibition flyer*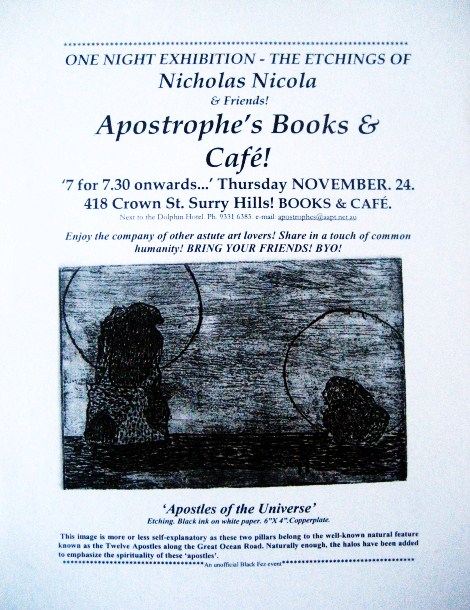 *The posters and flyers were black & white. Apologies for blue haze in this image; a technical nuisance which I have not been able to overcome.
Archive Three typical IKEA frame hand varnished by the artIst for the exhibition.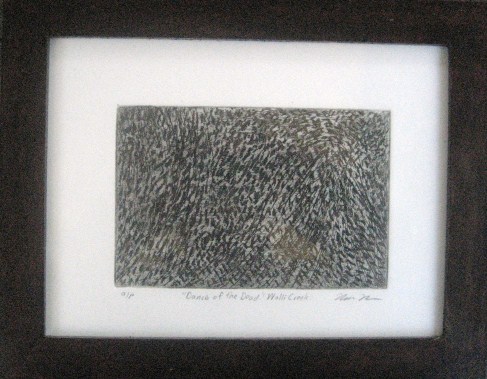 Archive Four Apostrophes' Cafe postcard/business card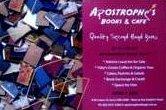 *converted microsoft word image to jpg. file
Archive Five Matina's house exhibition for local artists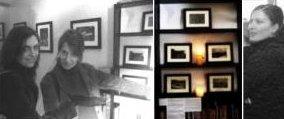 Three other friends admiring a red dot on one of the artist's etchings at a Chippendale house group show which included the artist's work; another innovation by Matina.
(Chippendale is another inner-city suburb of Sydney).
_______________________________________________________________________________________________________________