BLACK FEZ Poetry Nights!

The Apostrophe Café exhibition follows the tradition of the Black Fez Poetry Nights which were organized by 'Fenwick', myself and Doug (the 'godfather' of the black fez who owned one and would always bring it along with the always much needed P.A. system. Over the years other black fezs would emerge during the evenings).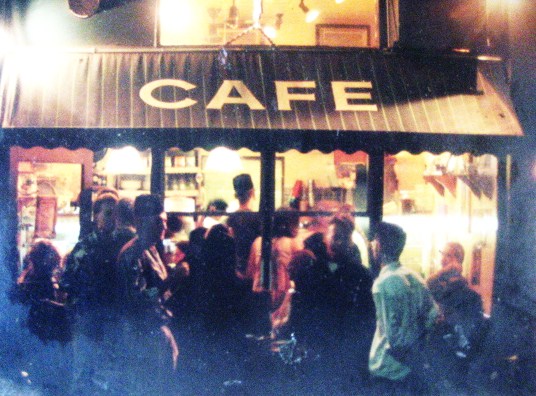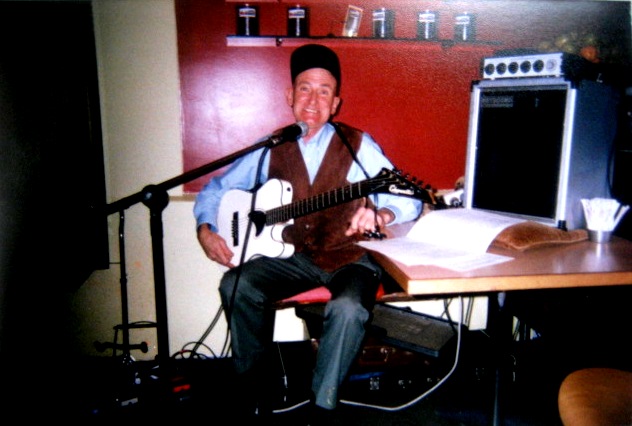 The Curiosity Cafe, Balmain. Notice through the doorway 'Fenwick' wearing a black fez. Doug with guitar and his P.A.
Famously started in the cushioned backroom at Emads Lebanese restaurant in Chippendale as a one-off poetry night it continued for many years – usually three or four times annually – being held in homes or cafes which were usually closed on Sunday night; establishments such as the Curiosity Café in Balmain and Weba's in Stanmore would open with the 'guarantee' of at least twenty to thirty people turning up.
The evenings were intimate as well as having a real sense of community; they were always unplanned and democratically consisted of people reciting their own writing or the writing of their favourite author or poet; artists would explain their pieces; actors and musicians were also welcome as Doug would often perform; on one memorable night people were amazed by the poignant, bluesy guitar playing of David Delves. There are also memories of being entranced by ethnic singing, blues harmonica playing etcetera. The back porch of a friend's old house in Drummoyne (now torn down and replaced with apartments) that overlooked the river was another favoured venue for the poetry evenings.
There was also often a quirky, voodoo unpredictability to the poetry nights as one was never sure what the night would bring: one's soul stays sustained to this day.
PHOTOS OF THE CO-FOUNDERS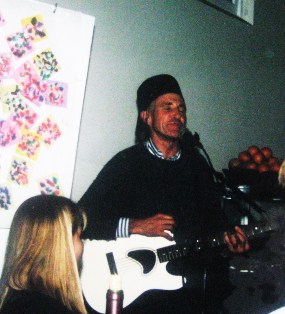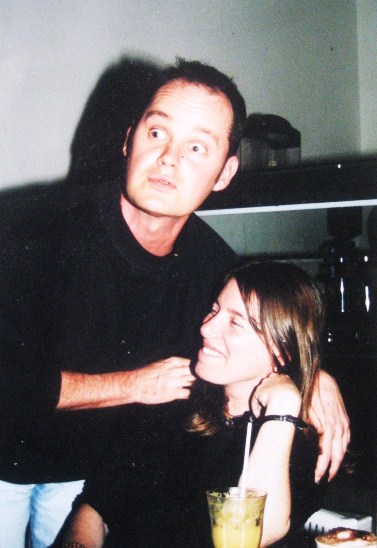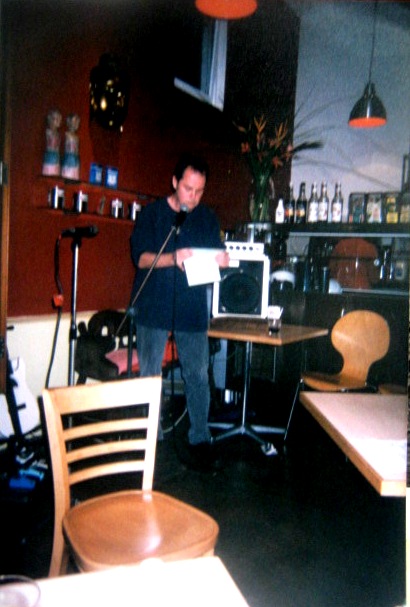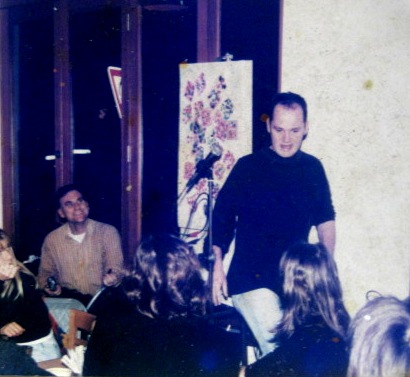 Doug performing. 'Fenwick' (David) with a captive member of the audience. Fenwick reading one of his short stories and walking around amusing the audience (note the artist in the background; when it was his turn he would read original writings who has since establised Black Fez Press; a very limited 'hands on' publication press). However, we see these co-founders Doug & 'Fenwick'of the Black Fez Poetry Nights as the main subjects in these photos.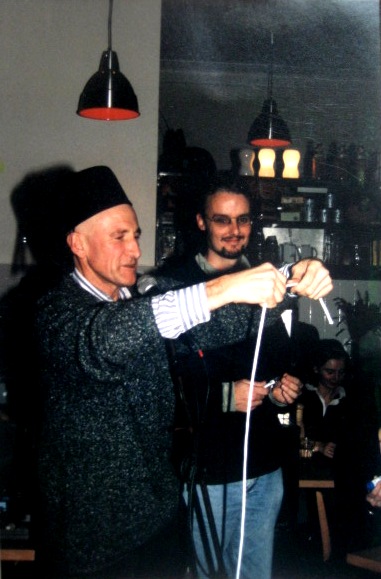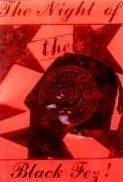 Doug performing a magic rope trick. An original black fez invite for a poetry night at the Curiosity Cafe Balmain. (Details were on the other side). This one has become tattered over the years. These invites were laminated if possible. There was always a different hand made flyer for each event.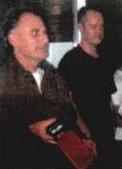 On the actual night of the exhibition I held a red fez given to me by a friend; she had purchased it in Morocco and travelled half way around the globe with it in a handmade cardboard box to finally give to me.
________________________________________________________________________________________________________________
Black Fez Christmas Cards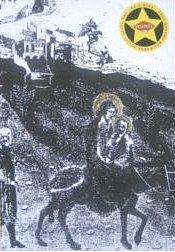 Oh friend brother sister lover/We have walked through/ The corrugated sands together/From Bushehr to Bahktaran,/From Baghdad to Bethlehem/We have known each other /And conceived some holy times together/As we recall the mysteries of life's journey/May you and all who hold dear/Be blessed by the star/ Which heralds the peace/Of this divine occasion/With the rising and descending/ Of the morning star/May your Christmas be merry/And your new year joyous.


Christmas is a heavy sac/ Of baubles, jinks, and myrrth/A celestial cyst on the calendar/Where vice and virtue blur/Friends we wish you love and peace/To ease this summer swelling/May the holy spectre/Haunt the halls Of your sublunary dwelling. (Black Fez Productions).
Christmas covers and design concepts by Nicholas Nicola. Words by David Fenwick.
Materials from Reverse Garbage. Addison Rd. Marickville. Sydney
_____________________________________________________________________________________
A4 flyer of benefit organised by Doug for the homeless people of San Francisco which is Sydney's sister city.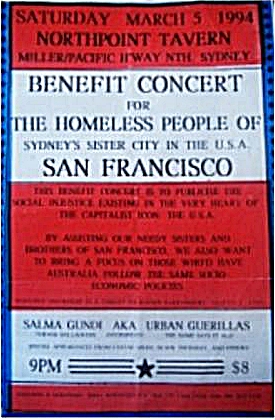 Text in middle red box:
THIS BENEFIT CONCERT IS TO PUBLICISE THE SOCIAL INJUSTICE EXISTING IN THE VERY HEART OF THE CAPITALIST ICON: THE U.S.A.
BY ASSISTING OUR NEEDY SISTERS AND BROTHERS OF SAN FRANCISCO, WE ALSO WANT TO BRING FOCUS ON THOSE WHO'D HAVE AUSTRALIA FOLLOW THE SAME ECONOMIC POLICIES.
'INJUSTICE ANYWHERE IS A THREAT TO JUSTICE EVERYWHERE.' MARTIN L. KING.
__________________________________________________________________________________________________________________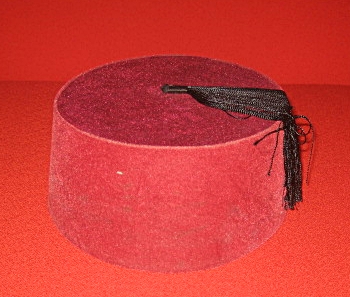 _______________________________________________________________________________________________________