Other etchings in the Apostrophes' Cafe Exhibition
For all sorts of reasons I did not include the following etchings in the main body of the website pages that dealt with the Apostrophes' Cafe exhibition. However. for archival reasons they have been placed here; there are three other exhibition prints in offcuts.
Australian Coast & Landscape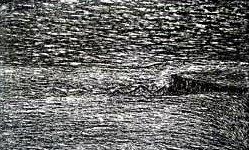 Visiting Wendy. Narooma.
B&W. 8"x6" zinc plate.
This is a rather dark, perhaps moody melancholy image due to the fact that I was visiting a friend who had just endured a family tragedy.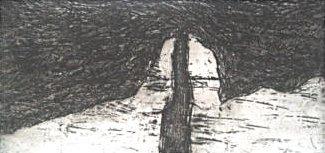 Waterfall Overhanging. Govett's Leap. Blackheath.
B&W. 7.5" X 4". zinc plate.
This somewhat abstract image is based on a sketch in the majestic geological area of Govett's Leap. I recently visited this area with a German friend now living in Fremantle and we arrived at the lookout at Govett's Leap just as a heavy rainstorm occured. We saw the birth of a waterfall and watched the mist and fog 'dance' across the valley below and then we saw a rainbow across the same valley when the rain stopped. it was a 'theatre of nature' watching its ephemeral elements at play. It was exciting to see.
Sydney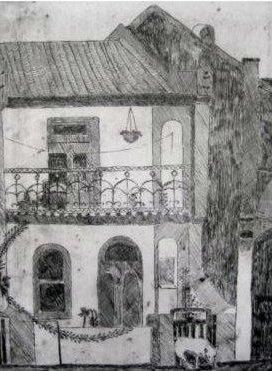 Sydney Terrace.
B&W. 7" X 9.5" zinc plate.
A particularly early traditional work; this place is where I once lived in Surry Hills. 'Sally' in the foreground belonged to my flatmate.

Neilson Park. B&W. 6"X4". zinc plate. M
When I have been to Nielson Park it is usually with a school group from an IEC (Intensive English Centre) where refugee/migrant students are introduced to the beach and water around Sydney in a very safe and calm context. It is always a joyous day.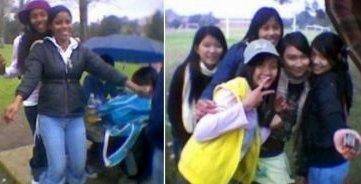 New arrival students on a picnic day.

Fairfield Cafe. Sepia. 6"X4". copperplate. M
I would go to this cafe with another work colleague Susana to have 'staff meetings' during our time off from class. (I was working as an ESL teacher at the local high school. My day job is casual teaching). Funnily enough we actually got a lot of work done while havin our coffees.

Cronulla. B&W. 6"X4". copperplate. M
Iconography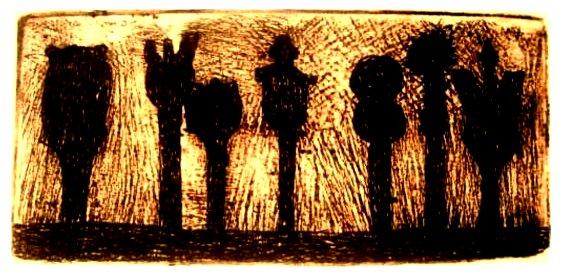 Nida.
sepia on cream paper. 2.5" X 5.5" copperplate. Lithuania. S N/A