Iconography
Below are a few images which appeal to my interest in icongraphy. Icons can be viewed as 'windows to eternity.' The last two images are not strictly icons but I think it is okay to place them here. After the last image are three photos taken in Cambodia in 1990 as well as further text.
agape (XL)
the angel moscow (M).
the redemption moscow (M).
manjustri, bodhivista of transcendental wisdom
african mask (M)
luna park. bayon. cambodia. (L)
S small M medium L large XL extra large N/A not available nic_nicola50@hotmail.com
________________________________________________________________________________________________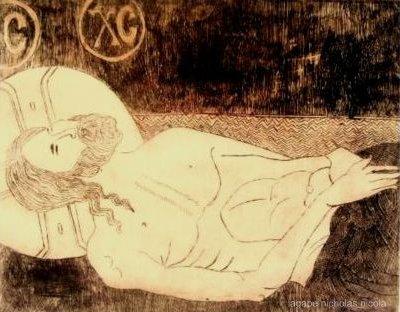 34 'Agape.' sepia on cream paper. 10"X8". zinc plate. XL
Agape is the Ancient Greek word for the sacrificial love as displayed by Christ. The print is based on a section of a Byzantine tapestry called the Epitaphios of Thessalonoki. It shows Christ as deceased in the 'nether state' between his lethal suffering on the Cross and to his eventual Resurrection. (I believe that depictions of Christ in this situation are quite rare). Although Christ is dead there is a sense in the original textile that he is more 'asleep'. Thus the work for me prevails with a sense of hope.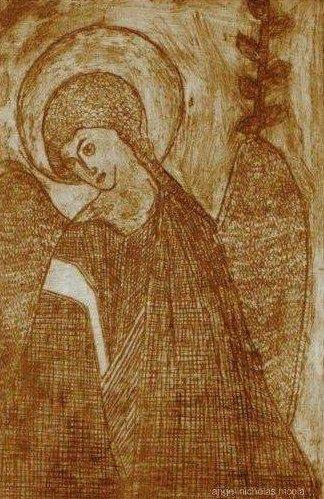 35 'The Angel.'
sepia on cream paper. 6"X 4". copperplate. Moscow. Russia. M
This angel is based on one of the three heavenly figures of Andrey Rublyov's 'The Trinity' (c. 1411). Rublyov was Russia's master iconographer. His icons have an inner spiritual psyche which strongly appeals to my Greek Orthodox sensibilities. Icons are not seen as works of art but rather as religious objects for holy worship. Icons are perceived as open 'windows to eternity'; thus the spectator meditates on 'heaven' so as to allow one's soul to transcend the mortal dimensions of this physically bound world. Hopefully, an inner revelation of the 'Divine Love' shall occur.At the Tretyakov Gallery in Moscow I had the good fortune to see Rublyov's 'The Trinity.' Yet, it was in St. Petersburg - at the Hermitage - I was especially intrigued to see a young well-heeled woman meditate and pray in front of another Rublyov icon. I found such mystical reverence quite moving and further emphasised, for me, the sublime spirituality of these beautiful religious images. It is my hope I may have also been able to convey this same sense of a 'divine serenity' with this particular image. I should also mention that angels are seen as messengers from God. Thank you.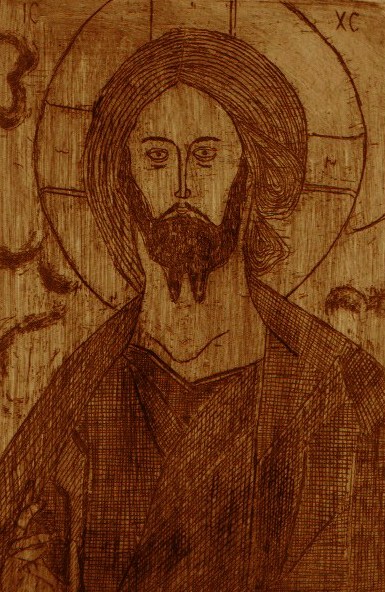 36 'The Redemption.'
sepia on paper. 6"X4". copperplate. Moscow.Russia. M
This etching of an iconoclast Christ as the redemptive Messiah is based on an icon by the great Russian Byzantine icon painter Andrey Rubylov.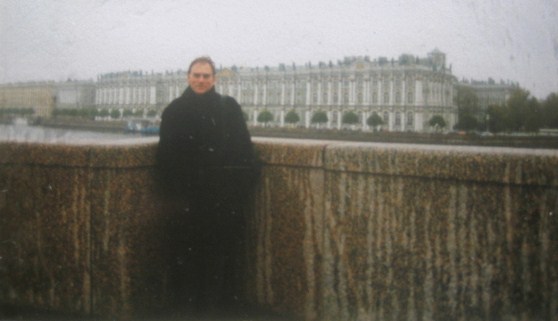 The artist with the Hermitage behind him. St. Petersburg.October.1998.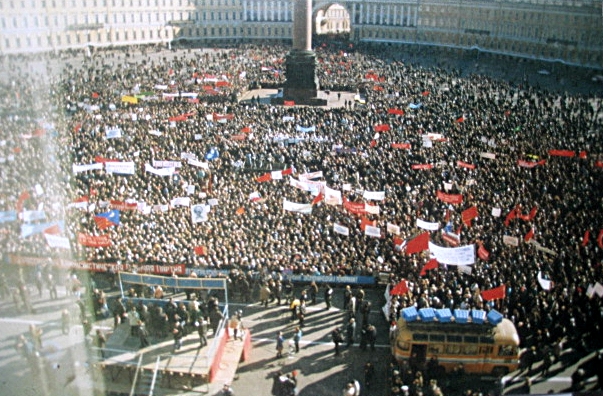 Anti-government demonstration by the Communists viewed from the Matisse Room. Hermitage. The artist finds the sight of so many large red flags and banners ironic considering the strong use of red by Matisse in the paintings on display. This enormous rally which the artist had witnessed from where it started at the spot the ship Aurora was moored felt like being back at the time of the 1917 Revolution. It is said shots fired from the cannons on the Aurora had signalled the beginning of the Bolshevik coup.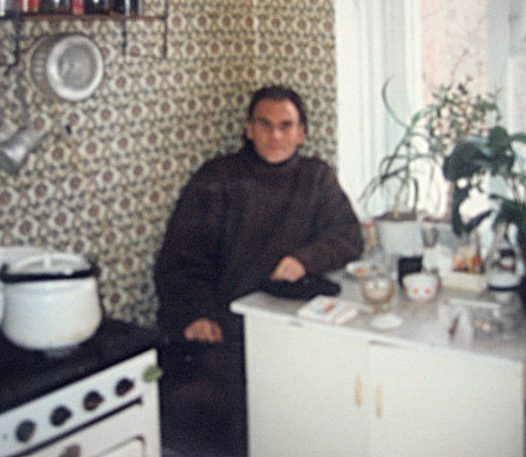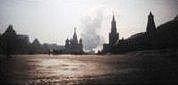 The artist in a Moscow flat which the host Galina would rent out rooms to travellers. Red Square. Moscow.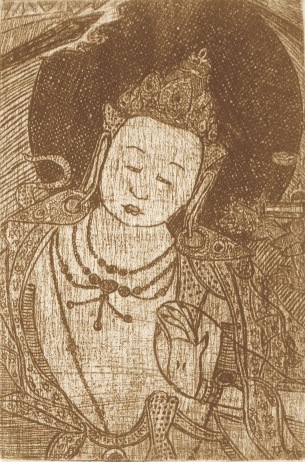 37
'Manjustri.'Bodhivista of Transcendental Wisdom'.
sepia on cream paper. 6"X4". copperplate. Tibet. M
Firstly, I would like to state that a bodhivista is an enlightened divine being. A bodhivista serves to lead others to enlightenment in their progression towards nirvana. Manjustri is a bodhivista who is depicted here as a young prince. The flaming sword in the top left hand corner of the etching is used to cut through human illusion.. Manjustri holds a flaming double-edged sword with his right hand while in his left hand this diety holds a stem which eventually leads to a blooming lotus of wisdom. Manjustri is portrayed as a young man to point out the Buddhist notion that wisdom does not necessarily result from the mere experience of living many years. Wisdom - which is seen in Buddhism as the Mother of all Buddhas - can result from a perceptive intellect which can see right through to the foundations of all reality Why is this mental power known as wisdom so cherished? Because wisdom is seen as the major virtue which can lead a pilgrim to the sort of total freedom needed to emancipate us from human suffering and human desire. These mortal virtues impede us from reaching nirvana. Thus this Buddhist diety is one of the most pre-eminent in the Buddhist cosmos. As iconography interests me I was attracted to the idea of portraying an Eastern divinity. It seems appropriate to etch Manjustri for it surely appears to me to be a worthwhile goal in this life - which many times seems like 'looking through a glass darkly' - to seek out the wisdom of the gods. This Manjustri is a detail of an eastern Tibetan image possibly painted in the early nineteenth century. It is entitled the 'Pure Land of Manjustri.' My interest in Tibetan Buddhism comes from experiencing Tibetan New Year in the Tibetan monastery town of Xiahe in Gansu province, western China (in Chinese-occupied Outer Tibet). I was impressed by the many mass rituals which I saw as well as by the cheekiness of the Tibetan people; they portray an incredible human resilience which defies both the adversities of nature and the harsh political obstacles which are presently being placed before them. Ignorant of much that I saw I am naturally curious to find out the meaning of these new year rituals. Thus, along the way, to discover such a bodhivista as Manjustri has been enriching.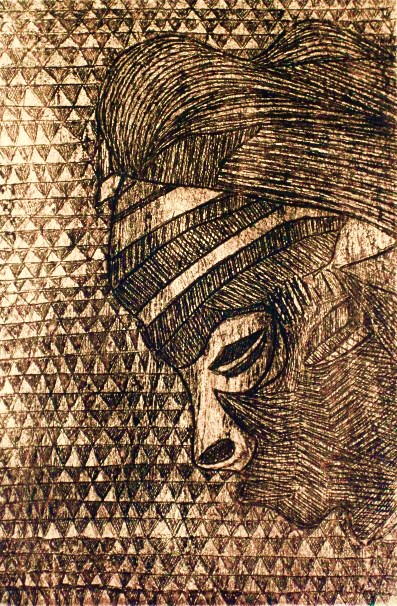 38 'African Mask.' sepia on cream paper. 6"X4" copperplate. M.
I have not yet been to so called 'Black Africa' but this image is a cursory acknowledgement of my interest in the overall dynamism of its many cultures; a vitality that has had an immense influence on Western modernism. It should be noted that African masks are 'still objects' that are infused with life by the spirits and by that 'organic moving object': the dancer. I was also influenced to do this work by the fact that a friend who has been to Africa on at least two occasions has left with me a considerable number of her masks and wooden statues for 'safekeeping.'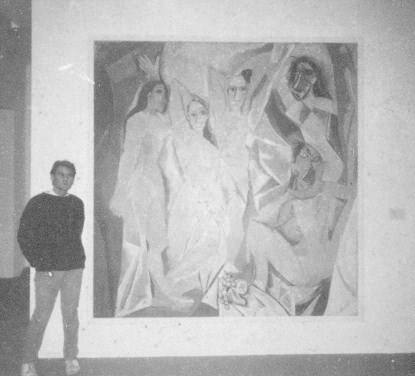 The artist in front of Picasso's breakthrough masterpiece Les Demoiselles d'Avignon which was influenced by African art.MOMA. NY. 1986.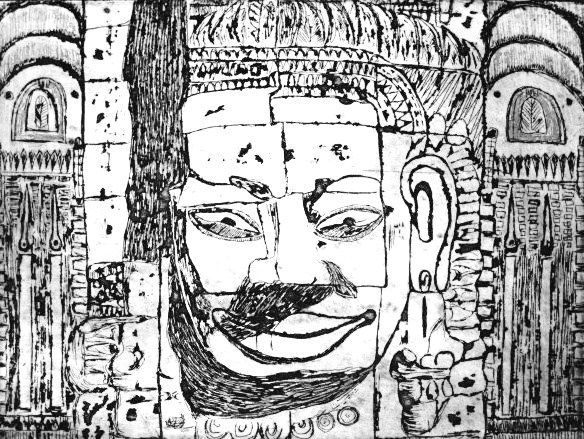 39 'Luna Park.' B&W. 8" X 6". zinc plate. Bayon. (Ankor Wat). Cambodia. L

This smiling Buddhist face is based on a stone carved image at the temple complex at Siem Reap known as 'Bayon.' These temples are in the same area as Ankor Wat - one of the marvels of Khmer architecture. When I first saw this smiling Buddha I was immediately reminded of the smiling face of Luna Park and consequently on either side of the face are the towers which can be found on the facade of Luna Park. It was an extraordinary day for myself and for my travel friend Julia as we were in Cambodia in 1990 while the country was more-or-less still closed off to individual travel. A guide T.T. took us and two middle-aged Frenchmen on a tour of the whole Ankor Wat complex. We had flown in from Phnom Penh and would fly out four hours later as it was too dangerous to go overland or to stay. As we enjoyed our tourist day government troops were passing by in a truck convoy on a long winding dirt road going off to fight the Khmer Rouge. In the distance we could hear the rumblings of battle and the ground would shake from artillery fire. A sight that will stay with me forever is two very young soldiers with Kalashnikovs over their shoulders languidly walking beside two Buddhist monks in orange garb walking through the Khmer ruins - as a shortcut to their village - all sharing a cigarette. At lunch one of the Frenchmen explained to us how he had come back to visit Cambodia as he had been there before as the child of a French diplomat father. He explained that on his first visit to Ankor Wat the jungle had fully surrounded it; when we were there it still had a very remote out of the way feel to it. As for T.T. he worked as a guide in the day and the work was good for improving his English and to supplement his meagre income. At night T.T. said he was often a guard helping to stop Khmer Rouge incursions into the local town Siem Reap. I shall also never forget the $US100 Admission Price for our visit to Ankor Wat which also included a lunch at a nearby government restaurant. There was also a $1 photo charge. We had to tip T.T. when we realised that he was going to see very little of the admission money.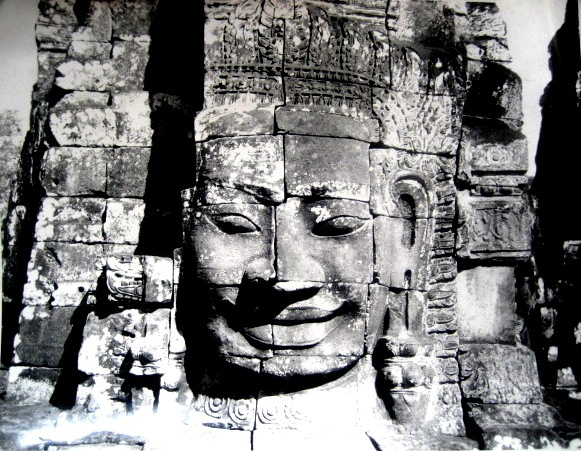 Bayon.
phnom penh, december, 1990
From the sixth floor of the Hotel Sokhali we had a grand view of Phnom Penh. We could see the hills beyond the outside of the city. We looked down onto a shanty house on the roof of the building opposite us. A lone girl, perhaps only four years old, was brushing her teeth. I shut the windows. This cuts out the noise. I walked out onto our small balcony. I was immediately reminded that the Sokhali was on a T-intersection. I looked over at the local cinema which was on the other side of the main road facing the front of the hotel. Large billboards of beautiful Indian women and macho guys adorned the front of the building. Cinema crowds continually swirled in and out of the large entrance from which came sounds that ranged from mystical rhythms to cowboy music. On either side of the cinema were flats and units filled with families. Underneath the units were shops which sold household goods, cigarettes, jewellery, food, bottled water, Russian vodka and where black-market money was also displayed behind counter windows. There were barbers, hairdressers, bakeries, stalls, cafes with televisions, restaurants and photography places with the latest Fuji technology. The one constant sound throughout the length and breadth of Phnom Penh was the blare of horns. These came from the many motor scooters and few cars which raced up an down the main road outside the Sokhali. Mingled in between these vehicles were hundreds of bicycles and cyclos, carrying goods as well as passengers, which were invariably always ringing their bells. N.G.O four wheel drives would wound their way through this traffic. I saw a tourist bus which was to me like a bubble protecting its occupants from the filth and noise of the city. Near dusk the dirt of the city would swirl up and cover everybody as the traffic became heavier and thousands of people left their daily chores to go home. Along the pavements would be children playing games which included French skipping, plastic sword fights, hoola hoops, cards and throwing whirling things into the air. Some children along with a few women would beg. One -legged soldiers could also be seen limping along the walkways or trying to rush across the roads. The cyclos, when stationary, would gather outside the Sokhali and other hotels. Many people would always be walking about and at the intersections were guard posts manned by traffic police. A lone green figure on top of a stand would direct the traffic to stop and go from the centre of these crossroads. The bicycles and cyclos would strain in neat lines waiting for the hand signal which would allow them to move on. Women wearing Peruvian style hats would cling to their husbands on the back of motor scooters. I saw a truck filled with large blocks of ice. One cyclo had his seat stacked with line after line of Coke bottles in crates. The driver could just peer over them to see where he was going. I saw before me people who were simply getting on with their lives…the warm air of the hot day shrouded each person as the elongated shadows of the sinking sun connected together to bring in the night. There were no street lights. Light would come from the shops. Light would come from the heads of passing vehicles. The noise permeated on, indifferent to whether the world was light or dark. People's conversations cluttered the night sounds...*
*extract from short story by the artist.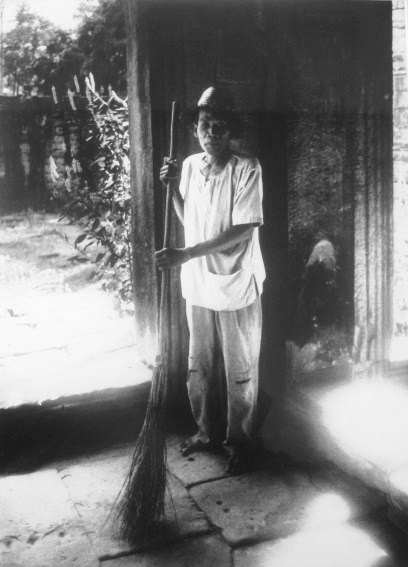 Bayon 'sweeper of time'.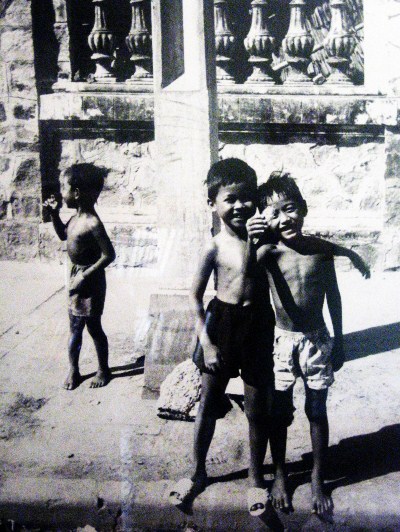 Boys playing on the footpath with a toy fish. Phnom Penh.