HOLIDAY POETRY
I should have titled this webpage as very raw holiday poetry as the downloads contain many poems that one could say are in their raw state; although I have been very much influenced by Charles Bukowski who seemed to write his poems totally ad hoc and I very much like the unfettered immediacy of his work. It is all alive, honest and immediate (apologies for using that word again). I will eventually do something with the presentation although the second download looks a little better than the first and includes a few poems not in the firsrt download although there is much work that is repeated. It is called Holiday Poetry as many of the poems were written during a particular rainy time in the school holidays in Sydney. I spent quite a bit of time being housebound and wrote the poems in response to the 'outside world' which mainly came to via the television and radio. (I actually did not have the internet at the time). Have a peruse but please don't take it all too seriously. There are also earlier writings in the downloads.
The poems are in a download state as technically that was the most expedient way to transfer the data from Microsoft Word to the website.You are advised to best view the writing at 75% scale.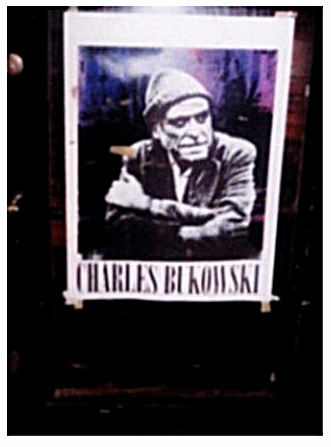 Charles Bukowski poster on an Amsterdam bookshop door.