Australian Coast & Landscape
Below is a list of prints as based on the Australian landscape and coast; such works as Ulysses & the Sirens at Bronte and Apostles of the Universe can be seen as 'cross-cultural'; more subtley Elite Restaurant may also be viewed this way. Many of these prints are early works from the late 90s through to the early 2000s and were first included on the website when it was originally constructed. Other webpages such as the page containing images up to 2012 (where many of these images can also be found) has a far wider range of Australian landscape and coastal etchings. Below the list is information relating to the images as well as some other background material including photos and original web images used.
dance of the dead
supernova
sunset.greenpatch.jervis bay
apostles of the universe
ulysess and the sirens. bronte.
road to mullumbimby
elite restaurant
minnamurra tree
minnamurra falls
the swimmer
S small M medium L large XL extra large N/A not available nic_nicola50@hotmail.com
________________________________________________________________________________________________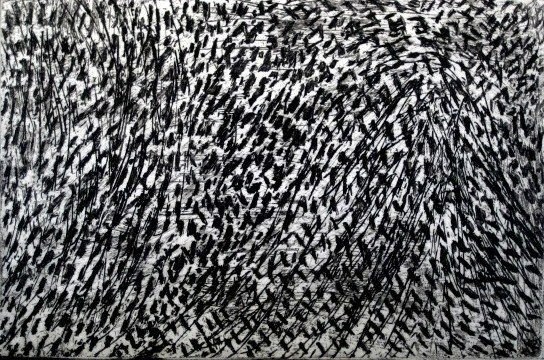 7 'The Dance of the Dead.'B&W. 6"X4". copper plate. Wolli Creek. M

I did a somewhat abstract drawing of leaves strayed by the wind on the Mexican Day of the Dead thus the title. Whenever I go for walks through Wolli Creek I often go with my sketchbook and on this particular day this natural vibrant pattern gained my particular attention.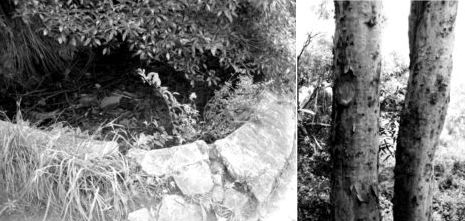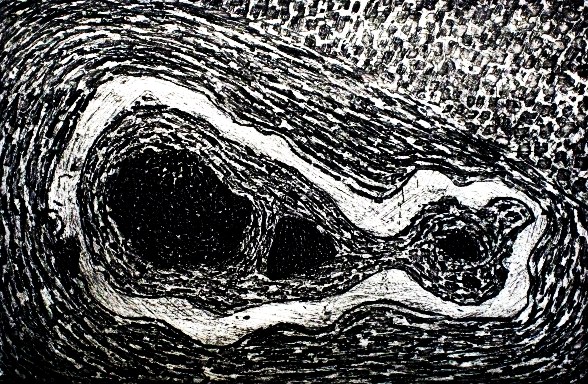 8 'Supernova.' B&W. 6' X 4". copperplate. Wolli Creek. M

This etching is based on a sketch of a shallow rock pool in Wolli Creek, a large area of bush that is near where I live. Whenever I am in the mood for it there's a good half-hour bush walk going close by the railway line between Bardwell Park and Turrella which at times you can pretend that you are right out of the city; at one point is a little old rectangle-shaped pool that looks as if it was built in the 20s or 30s. There is also a small cave overlooking a rainforest grove where homeless men during the Depression camped out. What is truly striking is these large outcrops of massive rocks that hover above over you while walking along a more open stretch. I once dubbed these 'rock heads' 'the dinosaurs.' Overall, the whole stretch of this bush is a very serene oasis. A universe unto its own.
9 'Sunset. Greenpatch. Jervis Bay.' black on grey. 8"X4" zinc plate.

Greenpatch is a popular spot at Jervis Bay and it was wondrous looking at the water at sunset as the sun's rays glided over the smooth water of the inlet. I have always liked the south coast - especially in winter - due to its wild quality but on this night it was the serenity of Nature which inspired me to also consider the enormous beauty of this coast line. The dark sky whose movement contrasts with the stillness of the sea was done by streaking steel wool over the wax on the zinc plate.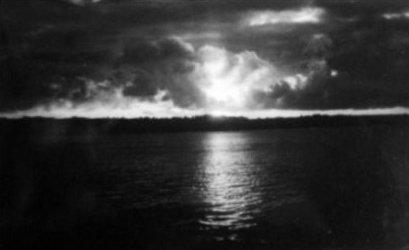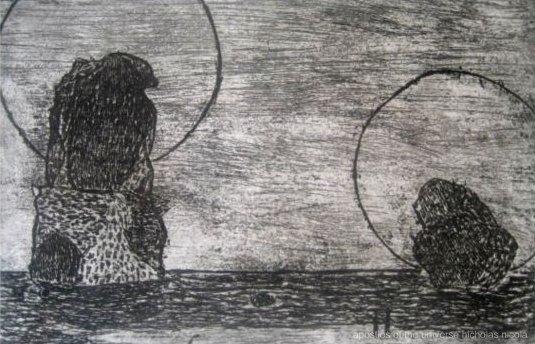 10 'Apostles of the Universe.' B & W. 6"X4". copperplate. M

This playful image is more or less self-explanatory as these two pillars belong to the well-known natural feature known as the Twelve Apostles along the Great Ocean Road in Victoria. This particular image is based on a photo of these two 'Twelve Apostles' which I took with two friends standing by them. They are the two tiny figures in the foreground on the beach. In the photo these two rock pillars look monumental. It was only 'natural' that halos were added in this depiction of these two Apostles which help to emphasize their spirituality; it was also only natural that the title relates these two large natural forms to the monumentality of the whole cosmos. By the way I was amazed how at sunset the apostles really did look as spectacular as they do in all the postcards. In fact, I was so impressed I bought one.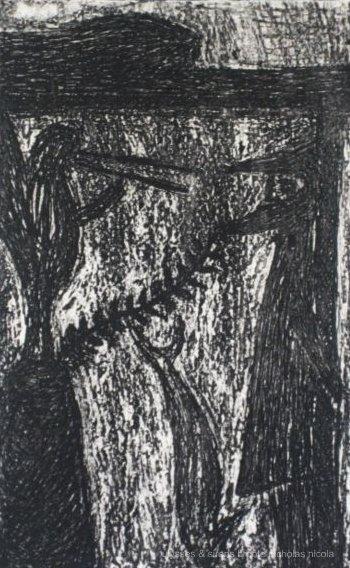 11 'Ulysses and the Sirens at Bronte.'
B&W. 6"X4". copperplate. M

This work is rather dark but deliberately so to evoke a mysterious mood. It may not be to many people's taste but I appreciate it as a work that compels you to meditate upon the inner tensions taking place - rather than only giving this drama a quick mental glance. I was also interested in playing around with texture which explain the rough-edge scratchy surfaces. This image is based on an ancient illustration whereby Ulysses is tied to the mast as he listens to the entrancing but deadly sounds of the beautiful Sirens who were half-bird half-female. In the background is the headland jutting out at Bronte which has been whimsically added to somewhat give this legendary scenario an Australian context.
12 'Road to Mullumbimby.' B&W. 8" X 6". zinc plate. L
Mt. Chincogan appears spectacularly as you round a bend on the way in to Mullumbimby after you turn off the main highway. In the Byron Bay environ there is not much public transport and while staying with friends in Bangalow I found that the most convenient way to get around is to hitch-hike. Interestingly enough it is mainly locals who pick you as they appreciate the difficulties of there not being an adequate public transport system. However, I have a vivid memory of being with a young Tasmanian guy - who had driven up all the way from Victoria in his minivan and whose ambition was to go as far north as he possibly could and then simply turn around and head back south - who was overawed when he saw this great mountain. I'm not sure if it is Mt. Chincogan or Mt. Warning but I have been told that one of them is associated with an Aboriginal women's sacred site. The etching is based on a sketch. I met a lot of 'drifters' while hitching. On my return trip to Sydney I had a long lift (I had decided to simply hitch home after all the buses were full due to many people going home during a very torrid bushfire season) with this middle-aged Queensland moustached, black-haired olive-skinned guy with a cockney accent in his Gemini and his sick pig dog in the backseat who had 'escaped' from his wife – "she had been 'brainwashed' by the religious people" – as he put it and - knowing only the local surroundings of a small township since childhood - was heading south to 'Mexico' (as he called NSW) to eventually go all the way to WA. "As far away as possible." He thought Taree and Newcastle were incredibly large places. As I caught a close to midnight train from Newcastle back to Sydney I still think to this day what his reaction was when he headed into the grand sprawling metropolis that is Sydney and how he would have simply been overcome by the gigantean sight of the Sydney Harbour Bridge and the skyscrapers of the CBD.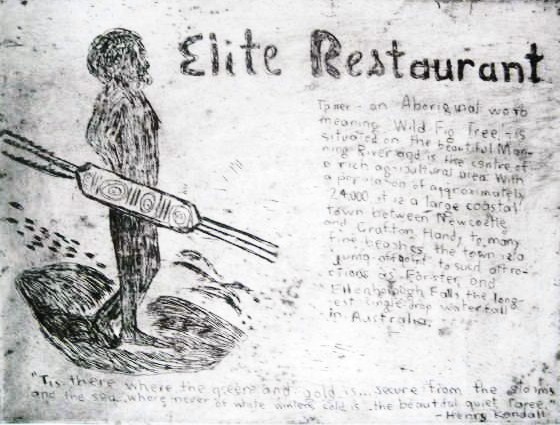 13 'Elite Restaurant.' B&W. 8" X 6". zinc plate. L

On a trip up the north coast with several friends we stopped off for lunch at this large, elegant café in Taree. I was struck by the paternalistic irony of this image and words on the table napkins; thus this 'reproduction.'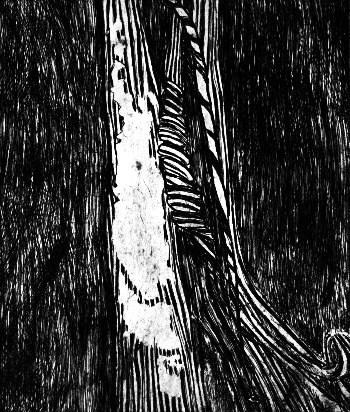 14 'Minnamurra Tree.' B&W. 6"X7" zinc plate. M
An exercise in contrast which is a study of one of the many beautiful rainforest trees that can be viewed in Minnamurra Forest near Jamberoo.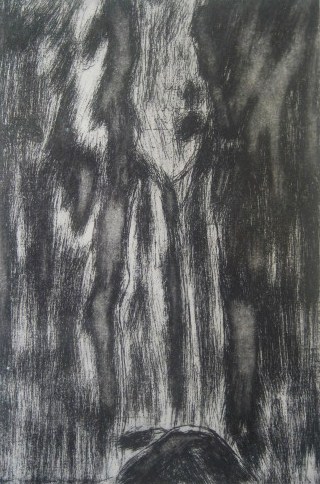 15 'Minnamurra Falls.' black on grey paper. 6" x 4". zinc plate. S. N/A.
At the end of the walk through the rainforest one comes to this waterfall. It is a tranquil setting.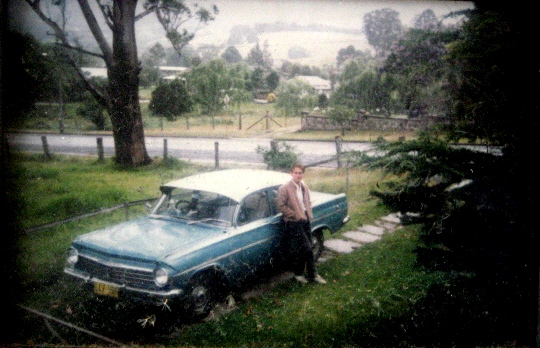 The artist leaning on his EH Holden. Jamberoo. 1988.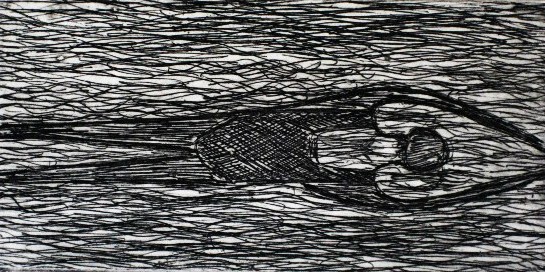 16 'The Swimmer.' B & W. 4"X 2". zinc plate. S
Here is an image of a typical Australian summer pastime which tugs at our memories to so many relaxing meditative lazy, sunny days by water.