Africa
The following etchings all have an African theme
Sierre Leone Queens playing cards (XL.N/A).
African Woman (XL, N/A)
The Curse is Lifted (L)
African Mask (M) Rpt.
small (S) medium (M) large (L) extra large (XL) not available (N/A) nic_nicola@hotmail.com
______________________________________________________________________________________________________________________________________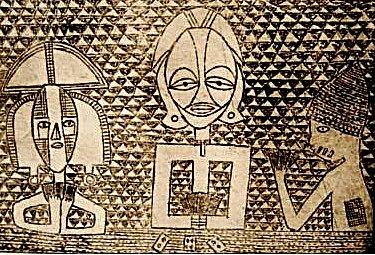 70. Sierre Leone Queens playing cards.
sepia. 9"X5". copperplate. XL N/A.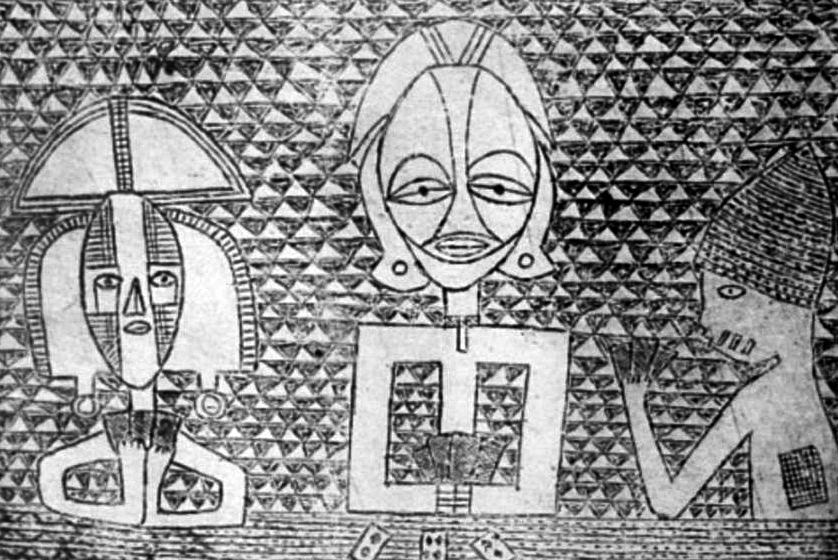 Black & White version.
This image has three African traditional figures; the idea of doing this picture came after taking a photo of three Sierre Leone students playing cards at a picnic day at MIEC (Marrickville Intensive English Centre). The students, from so many countries, were encouraged to wear their national dress and many of the African students - including Mariutu, Ramatulai and Ishia – proudly wore the beautiful, colourful garments of their homeland; having taught these Sierre Leone students I was always amazed by their 'fiesty life spirit' especially when I had to consider the troubles and suffering they had to put up with; thus this work recognizes how these students continue with life and to live it to the full. A true joy.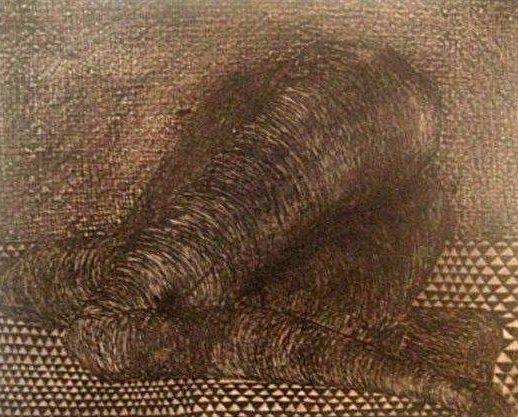 71. African Woman. sepia. zinc plate.10"x 6" XL. N/A.
This withering figure is based on a life drawing sketch from many years ago; reworked in response to how it seems that so many Africans - especially women – are the victims of innumerable war atrocities, hunger and of the deadly disease A.I.D.S.; millions of Africans are dying from this epidemic; not dissimilar to the horror of the Black Plague that wiped out a large portion of the population of Medieval Europe; yet on the Black Continent the AIDS holocaust is happening seemingly almost unnoticed to the outside world; especially to us in the West.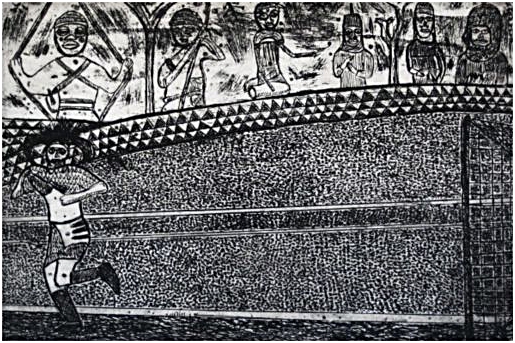 72.
'The Curse is Lifted.' In commemoration of Australia's entry into the FIFA World Cup with penalty shoot-out win over Uruguay. Telstra Stadium. Sydney. November 16. 2005.
B&W. 8" X 6". copperplate. L.

I was with a friend at Sapphos Café in Glebe after the markets and we were commenting about Tufnell Park* in North London where I had lived for a short while and where she had grown up in the vicinity. The conversation meandered onto Nick Hornby's Feverpitch and the film based on the book as we are both Arsenal supporters. Funnily enough I had just bought a book on European & African Witchcraft in this café-bookshop and as the football talk started to focus on Australia's recent entry to the World Cup I was very surprised to find out that my friend had not heard of the African curse placed on the Australian soccer team; this had occurred when the Australian footballers had refused to pay a witch doctor where they were playing in East Africa after asking him to put a curse on Rhodesia to secure a win. (Australia did win the match). Johnny Warren had told John Saffron that things did start to go a little haywire for the Australian team in subsequent matches. Thus John Saffron placed it upon himself to travel to Mozambique to have the curse lifted. The original witch doctor had died but John Saffron was able to acquire the services of other sorcerers. I have a memory of John Saffron on television dressed in the Australian football uniform being splattered in chicken blood on the very soccer field that Australia had gained its victory all those years ago. (I believe that subsequently Johnny Warren was also splattered with chicken blood in Australia). With this ritual completed Australia could only hope for better things and it is remarked that on the night of the second-leg win when John Aloisi (transformed here into an African spirits man) scored that final memorable penalty goal and ran off with his shirt waving above his head (much like that main central figure in Gericault's Raft of the Medusa) that luck had finally run Australia's way. Back home on that Saturday I was in the mood to do an etching that was possible due to John Saffron's 'feat.' Thus this 'magic image' based on one of the many incredible newspaper photos of John Aloisi running off down the pitch after the 'impossible victory' was secured. It was such a momentous occasion and as the viewer casts his or her eyes onto the sea of endless dots in the Telstra Stadium - representing the thousands of people who each individually and as one massive organism witnessed this grand achievement - one can relive that precious millisecond of pure rapture that was felt when that ball landed into the back of the net. Life as joy. No matter what the future holds for these Australian footballers this fantastic moment - when this once cursed football team had been released from the African spirits - can always be savoured again and again…_____________________________________________________________________________________________________________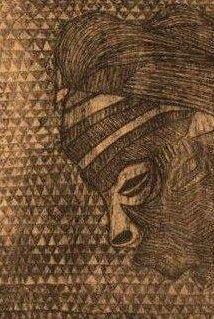 African Mask. This etching whose full details can be found on the Iconography webpage in Part I is shown again here (but on a smaller scale) due to the obvious African theme.